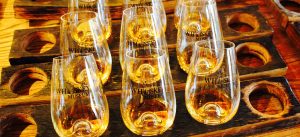 The Irish Whiskey Museum was opened in November 2014, since this time, it has become one of the most popular tourism destinations in the Centre of Dublin City. It is housed in an Edwardian style listed building on the bottom of Grafton Street.
The museum is housed over three floors, each one accessible by stairs and a lift. This building is prime example of a protected structure, which has been opened up, ensuring it is accessible to everyone.
To access the entrance, you go through an archway into a small courtyard, where there are steps and a lift. The lift will bring you directly to the first floor, as this is where the Café Bar, Shop, are located and this is where the tour starts. For security purposes, the lift does not automatically go to the next levels without a key.  The key is available from the person behind the reception desk who will give you access before your tour starts.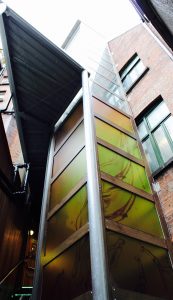 Upon entering, there are toilets to your right, the accessible toilet meets all of the criteria, but is also a lot less clinical and is decorated in the same way as the other toilets!
The shop and ticket office are to your left and the Café Bar is straight ahead. This is a really nice room with a lot of space and this is where you will wait until your tour begins!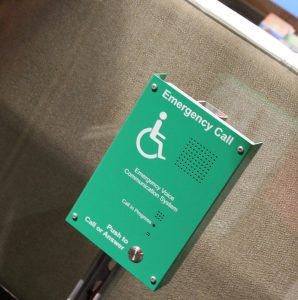 The tour begins on the second floor, I really had no idea what to expect, as I didn't know a lot about whiskey, only that my grandparents, enjoyed it very much! We initially learned about the whiskey making process, from the beginning.
Our guide was excellent; she was enthusiastic, incredibly knowledgeable and relaxed in her manner. She made everyone feel very welcome from the outset.
The tour begins with history about whiskey, which I found really interesting! We then moved on to a second room, called a Shebeen, you will have to visit to find out more! The rooms are really spacious and completely accessible throughout.
We moved from the Shebeen, to the Bar, where we learned about how many distilleries there were in Ireland and about the distillers. This was done in a virtual interactive process. We then moved to the third floor, where as you can see, you can actually see the timeline in bottles and various memorabilia from each era.
We then moved into the bar area, where, depending on your ticket choice, you can actually sample different whiskeys. My fellow guests enjoyed every aspect of this part! Our guide, once again, showed her understanding and great knowledge in this area and was open to lots of questions.
I thoroughly enjoyed my visit to the Irish Whiskey Museum; it is certainly one of the most accessible tourism destinations in Dublin.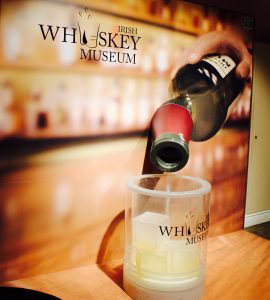 For any information on the Irish Whiskey Museum: www.irishwhiskeymuseum.ie
Email me: angela@trainability.ie
For more information on accessible destination: www.trainability.ie
http://trainability.ie/wp-content/uploads/2017/07/Whiskey-Museum.jpg
2074
4552
john
http://trainability.ie/wp-content/uploads/2014/04/logo.jpeg
john
2017-07-10 18:21:05
2017-11-15 10:39:07
Irish Whiskey Museum